NextWave Partner Ecosystem Overview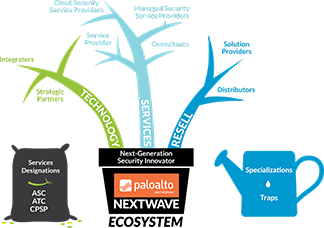 Right Strategy, Right Philosophy,
Right Platform, and Right Partners.
The NextWave Partner Ecosystem is a communityof world-class security experts and leaders who are committed to prevention and making breaches a thing of the past. Together we are providing a new approach to security that is rapidly gaining momentum.
Learn
It takes an ecosystem to address the increasingly complex and long-term issues threatening today's customers. We need partners that deliver, manage, and integrate with, our next-generation security platform to make threat prevention a reality.
To learn more click on the appropriate NextWave Partner Program:
Become
To succeed in today's market we are focused on providing our partners with a variety of program options to best fit their business needs. Our programs goal is to provide access to innovative and disruptive technology that maximizes differentiation and allows our partners to build a sustainable security practice with Palo Alto Networks.
To get started or to inquire about creating a partnership please click the appropriate program:
Find
More and more customers are looking for a trusted advisor that can provide a security platform that delivers a high degree of threat prevention across every step in an attack lifecycle. The Palo Alto Networks NextWave Partner Ecosystem has a wide range of global partners with different expertise ready to help you.
To find a partner simply click the partner type below based on your need.